Coaches
Kevin Hamilton:

Kevin has been involved in triathlon for15 yrs and is one of the founder members of Cerist Triathlon Club. He has been part of the Welsh and Great Britain team for many years competing at three World Championship events – 1999, 2000 & 2002, European championships 2005 and a member of Welsh Squad at the Home Nations 2003 & 2004.His enthusiasm and passion for the sport is infectious and he has undoubtedly contributed enormously to the increase and participation for Triathlon in the area.
Achievements

World Champs 1999 in Montreal – 2nd in 35-39 cat (citizens race)

Welsh Sprint distance – 3rd 1998, 3rd 2003

Welsh Grand Prix winner 1998

Welsh Olympic distance – 2nd 1998 & 3rd 2000.

Aquathlon – British Championships 2003 – 2nd (35-39 cat)

Olympic Distance – 2 hours 6 minutes.

Sprint distance – 59minutes and 57s

Ironman 70.3 – 4 hours and 45 minutes.

Montgomeryshire Sport Awards: Nominated 2008/9 outstanding accomplishment and contribution to sport.

Dragon Sports: nomination for volunteer of the year 2007 and winner in 2008

Professional,Training and Coaching qualifications

Governing body

Level

University of Wales

2003

BA(Hons) & PGCE in Post Compulsory Education and training

British Triathlon 2007

Coach Level 2

OCR (Oxford and Cambridge RSA) 2008

Level 2 Gym Instructor (excersise and fitness, anatomy and physiology)

Pulse Fitness 2005

Group Cycling Instructor

VT Training 2010

Level 2 circuit training Instructor

HeartStart

Emergency Life support

Sports Coach UK 2010

Child protection

Insurance Cover

Insured through the BTF and Public Liability Cover for fitness instructors - £5m (industry standard)

Gym inductions and specific training plans available to suit your needs.
Kim Brett: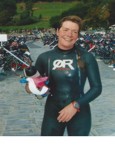 Kim did her first tri in 1999 and then had a very long break before joining Cerist in 2006. With a background in Fitness coaching going back 15 years she was delighted to become part of the coaching team. She is keen to help people of all abilities to get involved in Triathlon and/or become more active generally to improve their health and fitness on all levels. Kim is a qualified  Personal Trainer, Nutritional Adviser, Triathlon and Run Coach and has passion for open water swimming. Her current qualifications cover her for personal training, circuit training, turbo training, club "training day"sessions,  swimming, cycling and run training In addition she can provide gym programmes, health and fitness assessments and nutritional analysis and advice.
Training and Coaching qualifications

Governing Body

Level

Register of Exercise Professionals (Reps) level 2 Active Training

RSA exercise to music (1996)

Reps level 2 Active Training

Step Aerobics (1996)

Reps level 2 Active Training

Aqua fit (1996)

Reps level 2 Active Training

Gym Instructor  (1996)

Reps level 2 Active Training

Cardiovascular and resistance training (circuits) (1996)

Reps level 2 Active Training

Fitness testing (1996)

British Triathlon Federation

Coach Level 1 swimming, cycling, running (2009)

Reps level 2 Lifetime Fitness

Studio cycling (2010)

Reps level 3 Lifetime Fitness

Nutrition and weight management (2010)

Reps level 3 Lifetime Fitness

Advanced Gym Instructor and Personal Trainer (2011)

UK Athletics

Leadership in Run Fitness (2011)

Insurance Cover

Insured through the BTF and Public Liability Cover for fitness instructors - £5m (industry standard)